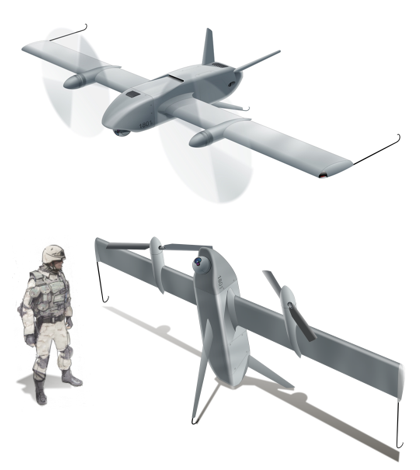 AVX Aircraft Company successfully demonstrated first flight of its Rotor Enhanced Combat Observation Node (RECON) technology demonstrator this month at a test site near company headquarters in Benbrook, TX.  Several hover tests were conducted to evaluate VTOL capabilities and handling qualities of the design.  The 2/3 scale prototype was developed in response to US Army Future Tactical Unmanned Aerial Systems (FTUAS) requirements which places emphasis on Vertical Take Off and Landing (VTOL) combined with long loiter times and ability to carry significantly greater payloads than current UAVs in its class.  AVX's innovative tilt-body design with much larger rotor diameter will deliver significantly greater payload and loiter time than current "4+1" type VTOL UAVs operating today.
AVX Aircraft, a formidable competitor in US Army Future Armed Reconnaissance Aircraft (FARA) program, is leveraging decades of aircraft design experience to compete in the military UAS market.
AVX President Kendall Goodman highlights "We brought this design to life after listening to our customer's capability needs. The RECON UAS will be a disruptive force that achieves the customer's most stressing missions. This VTOL UAS platform will deliver significantly greater range, speed and payload to the warfighters of tomorrow".