AVX Aircraft Showcases FleetSpace Technology at Army's EDGE22
Future vertical lift technology is here. Much focus is on the Army's selection of the next generation's attack and recon aircraft. History suggests costs to sustain these aircraft over the next 30 years will be about 70 percent of the total life-cycle costs, therefore, New Innovative Sustainment Technologies will play a key role in the future of Army Aviation.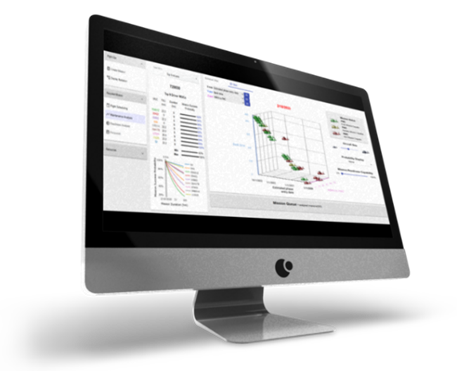 FVL CFT Senior Sustainment Advisor Ms. Cindy Ponder led the effort to show case technologies providing solutions to reduce sustainment costs. New innovative technologies displayed at the Experimental Demonstration Gateway Event (EDGE22) at Dugway Proving Grounds from April 25 – May 13.  Along with Penn State University-Applied Research Laboratory (PSU-ARL) and Texas Tech University-Institute for Materials, Manufacturing and Sustainment (TTU-IMMS), AVX Aircraft exhibited their FleetSpace prototype to prove its capabilities. FleetSpace is a 3-D interactive, AI-enabled, decision-making tool for Operations and Maintenance planning. It is the first viable Army Predictive Logistics Toolset to significantly reduce operating costs and increase mission readiness.
FleetSpace uses a Digital Twin simulating each planned mission by applying factors to account for uncertainty and then dividing that mission into a set of independent, shorter, mission components. Using historical data on each aircraft component, a probability of failure leading to a mission abort, mission failure, unscheduled maintenance event, or essential maintenance action is estimated. After simulating a mission for the selected aircraft, results and conclusions are drawn to provide actionable information to Operations and Mission planners. Via 3-D models and interactive graphics, FleetSpace will give the soldier information on where to locate parts, personnel, and equipment to increase operational readiness and reduce cost per flight hour.
Sam Evans (PSU-ARL), a retired Army Logistics Officer, Aviator, and Maintenance Test Pilot worked with Army soldiers during Edge22 to test FleetSpace and receive feedback on the 3-D Interactive User Interface and highlight several of the Maintenance planning and scheduling features. One Maintenance Manager estimated it would save 3 hours a day and provide a much more accurate assessment of current fleet status. Another noted FleetSpace is the digital version of a daily Production Control (PC) meeting, with the potential to save an additional hour a day for the entire PC staff.
EDGE is the U.S. Army's yearly showcase exhibiting cutting-edge technologies needed for advancing transformational capability and increasing interoperability. EDGE22 marked the first year to incorporate Innovative Sustainment enabling highly reliable, low maintenance platforms that can survive outside traditional sustainment in the multi-domain battle space for extended periods.